Welcome to the YASEP's website !
version PRELIMINARY
(several features are broken or under development)
What is the YASEP ?
The acronym "YASEP" means "Yet Another Small Embedded Processor". It's a family of original, Free, configurable (16-bit or 32-bit) microcontroller cores, meant to be quite small and as simple as possible (well, that's the original idea).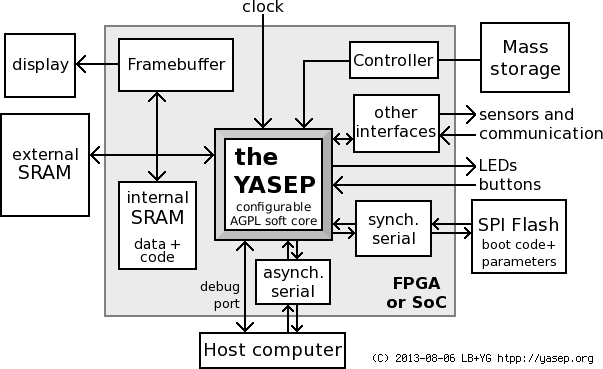 By choosing sometimes unusual methods, it is possible to concentrate on the real issues of CPU development (mainly : architectural choices and implementation details).
The YASEP exists in the form of this website, which is not just
source code
, a
simulator
, an
assembler
, a
disassembler
, a
Flasher
, a
manual
, a
configuration tool
, it is all that and it will be much more! Every part is integrated in the others (and vice versa), so the whole remains (almost) coherent, easy to use and
quick to develop, fix and maintain.
By extension, the YASEP is also a testbed for a modular toolset (using the
YGWM
framework) that will be re-used for other projects, in particular to design other CPU architectures.
You will find some background on this project in the menus, in the
blog
and in these presentations:
EHSM2012
(english) and
JMLL2012
(french).
Happy clicking !
yg
You read this message because there is an internal bug, you are a search engine, JavaScript
is disabled or your connection is too slow but most probably you don't use Firefox
or a capable enough web browser. Notably, old MSIE often fails. I'm so sorry ! I never meant
to give you up, to let you down, to run around and desert you...
The YASEP's features and characteristics
Single-issue, pipelined, in-order, RISC architecture with 16 "registers" (including PC) and register-mapped memory.
Orthogonal 16-bit instructions : about 51 opcodes with an optional 16-bit additional immediate word or extended word
Compact instruction words with short and long immediate, 2, 3 or 4 register operands.
Configurable with either a 16 or 32-bit wide datapath with/without several features (memory, multiply...).
Register-mapped memory increases data memory bandwidth : an instruction can trigger up to 3 data memory accesses, instead of 1 for a typical load-store architecture.
The abstract architecture is specified with JavaScript+HTML, which generates the VHDL source code (suitable for FPGA and ASIC). Actel's ProASIC3 is the targeted technology, other brands will come later.
The YASEP is Free Hardware ! It is available under the Affero GPL license. No patent (pending or known) applies to this core. All the code is original and copyrighted by myself, no licensing fee is collected. And your help is welcome :-)
Status
The microYASEP executed its first instructions in FPGA in 2012-03 and in JavaScript and VHDL simulation in 2012-11. The first Mandelbrot sets were computed in July 2013. However the YASEP project is still not considered ready. The pointer update system and the memory interface are being developed, the instruction format has changed significantly and the opcode map can still evolve a bit.
Work for 2014 : update, cleanup and stabilize the instruction set, the documentation, the VHDL and the critical tools. YASEP2014 obsoletes the previous architectures and should not not change radically again. A somewhat "milestone" release is expected by the year's end.
Planned for 2015 and beyond : GNL, compiler frontends (C, Pascal ?), faster simulation, the list is long... Stay tuned !
Download
You can download the whole YASEP website (source code, pages, documentation, tools, etc.) as a single archive (about 665KB in .tar.bzip2). You can test the YASEP at home, and play with the source code at will.
Note : if you want to use certain features (like file save/load), you'll need to modify your computer configuration. Install Apache under GNU/Linux, or EasyPHP under MS Windows. The SPI Flash tool needs a Raspberry Pi.
This site
The following open directories contain search-engine-friendly data ;-)
The YASEP on the web
Other websites
Browser requirements
This website has been designed with CPU efficiency and small memory footprint in mind so it could work on embedded, handheld or cheap devices like the Raspberry Pi.
Supported web browsers
This site is developed on a basic laptop with Firefox (currently 26, but 3.5 should work), plus some tests on Opera and Safari from time to time.
It is known to work with other browsers like Seamonkey, Omniweb, Shiira, Safari, Konqueror and Chrome. With a flaw or two.
It is known to not work well with Internet Explorer, however I have seen remarkable efforts since 2011 for the latest versions. It's welcome since supporting old IE is counter-productive.
Camino seems to not like it either.
The site uses a lot of drag&drop, it does not work with "tablets" or "smartphones" (iPhone, iPad, Android...). iPhone's Safari doesn't even load window's contents correctly. Use a desktop or a laptop, with a mouse or a stylus, but touch surfaces don't do it...
Cookies
Cookies have been used to provide persistence for navigation (language, window types and positions...). This system is now replaced by the HTML5 localStorage present in all recent browsers. Thi provides better session handling and limits the data sent by the browser. But don't forget to save your work often !
---